Sina Pearson: Textiles with a point of view
An expansive collection of iconic designs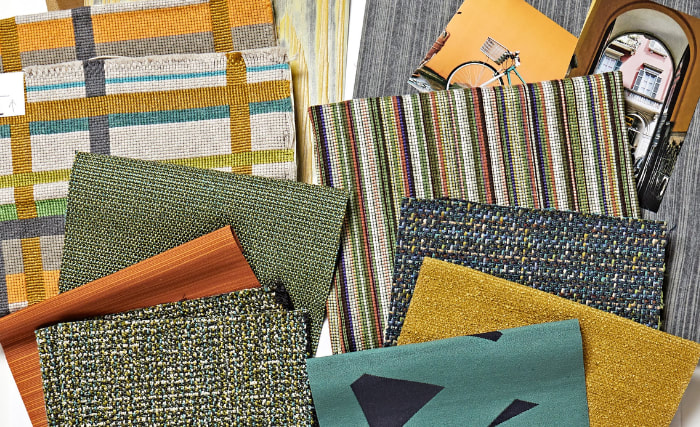 The thread in the journey
An essential chapter to the Momentum story is our partnership with Sina Pearson. As a visionary textile designer with Momentum, Sina has brought iconic artistic design innovation to the table.
Sina's interest in textiles began when she was a small child, and her illustrious professional career has spanned 5 decades. As she often says, she just loves fabric and all the materials and simple to complex processes to create it. The imaginative and intellectual influence of her photographer father and self-taught landscape designer mother can be found in the passion she brings to her work.
For Sina, textile design is rooted in balancing inspiration with a deliberate, yet organic process. Her approach holds reverence for letting every fabric "be what it wants to be" while she seeks to capture moments in time, drawing connections of even the most simple and obscure details. From the blurred view of a passing train to the fine structural details of an architectural façade, she uses real world experiences to guide her design process.
Every Sina Pearson collection tells a unique story. Her soulful travel journeys, love of diverse cultures and the beauty of nature help her discover "moments", while her travel journals and color stories document the textiles' inspiration of people, places and time.
Sina's fabrics are celebrated for their exuberant color palette, complex textures and lively, accessible patterns that gracefully complement one another. Woven with a wide variety of natural and man-made fibers, the fabrics retain a luxurious appearance while meeting the most demanding industry performance standards including GREENGUARD and PVC-free.
The At the Museum collection
A love letter to museums, this award-winning collection includes 6 dimensional patterns, both small and large-scale, that feature linear imagery and geometric shapes. The collection is brought to life with colors that include rich primary hues, fresh mid-tones, and graphic black and white neutrals.