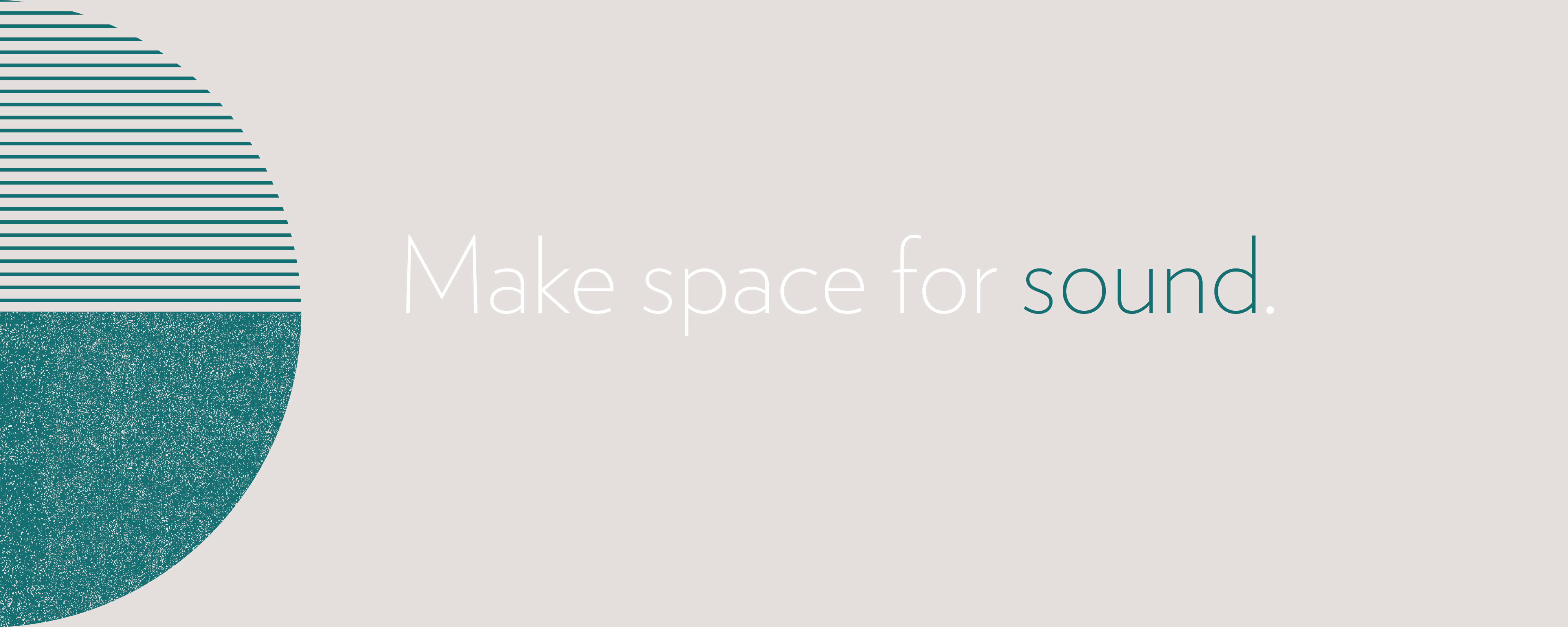 The importance
of acoustics
SOUND GOALS: Properly designed acoustics contribute to a safe and effective space by cultivating a more comfortable soundscape. We can hear each other. We can connect.
Noisy environments, where spoken communications get lost and ambient sound is amplified, make it harder to focus and create stress. Our sound solutions make it easier to choose calm, clear connection.
Reduce echos, background noise & reverberation
Improve sound quality for clear conversations
Improve the peacefulness of your room
Improve the aesthetics of your space
Sound Design
Reverberation
Reverberation is to sound what reflection is to light. It is the persistence of sound after it's produced. When these sounds stack up, communication gets tricky - people tend to talk even louder, just to be heard, resulting in more reverb... and the cycle continues. "Reverberation time" is the measure of time it takes for sound to drop 60 decibels from its original level. An ideal reverb time for a classroom or office is 0.6 seconds.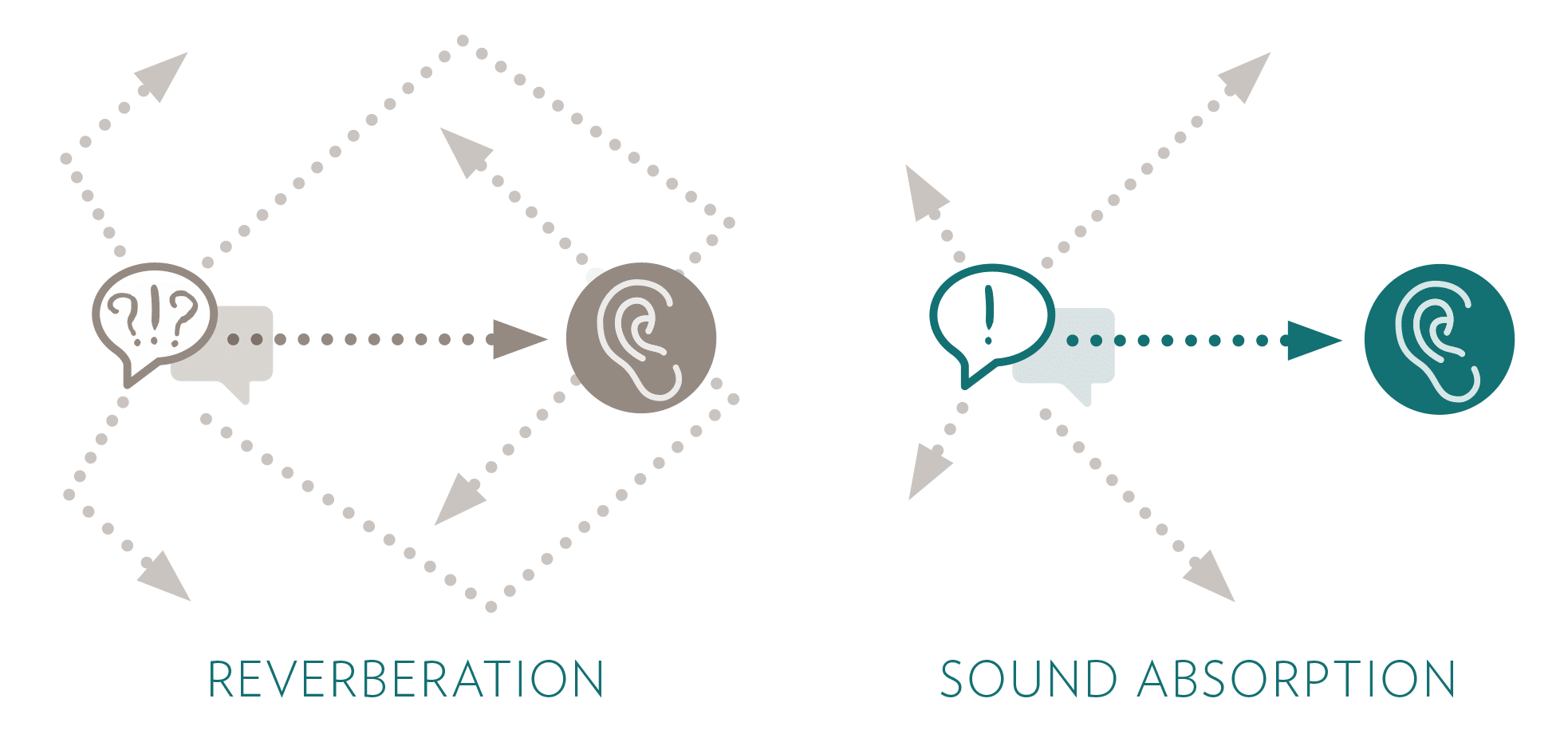 Sound Absorption
(NRC)
Sound absorption is the quality found in different materials that reduce reverberation times by absorbing sound energy and reducing sound levels. By eliminating unwanted sound, these materials can improve sound quality in a room.
Different types of materials either reflect or absorb sound to different degrees. For instance, smooth concrete may absorb just 2% of sound, while reflecting the remaining 98%. In contrast, an acoustic panel with airspace behind it might absorb 75% of the sound that hits it.
NRC? Let's talk about it.
Noise Reduction Coefficient (NRC) is a measurement of how much sound a surface absorbs. Acoustic solutions performance is measured using this rating.

The right solution for your space
It's possible to over-engineer your acoustic solutions to where a space is "too quiet" The right solution may combine materials of varying NRC ratings to create the perfect soundscape.
From floor-to-ceiling rigid panels, which offer the most sound dampening, to shapes mixed with standard wall coverings or rolled acoustical textures, these options can be combined to create just the right lively hum, without creating too much buzz or too much hush.
Performance is based upon configuration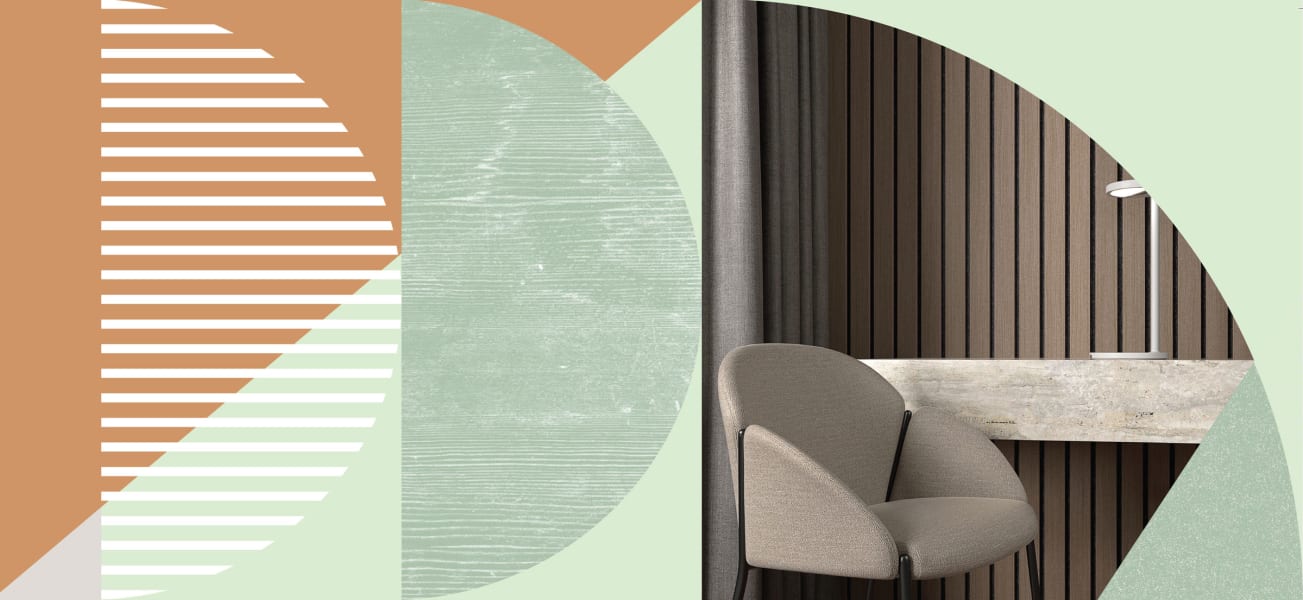 Make space for sound. Momentum acoustics. Spring 2023
Decades of experience of bringing innovation and inspiring designs to commercial and hospitality interiors have formed the basis for our collection of acoustic solutions that bring elegance, fun, function, and a good deal of joy to every space.
Carousel
Carousel
01

Sustainability

We've woven sustainability into every sound-dampening solution we create. We like the sound of that.

02

Acoustics 101

Combine materials of varying sound absorption ratings to create just the right lively hum, without creating too much buzz.

03

Design Resources

Everything you need, all in one place. Easily find and download specifications, installation instructions, and BIM files.
Need to hear
from us?
We are ready to help with everything you need, from specifying to planning to purchasing. Connect with us to find the perfect solution for your project.